The August issue of Windpower Monthly features a four-page report describing the activities of the German Windpower Museum in detail in the English language.
One of the club's exhibits (Trebur) made its way on the cover (left half).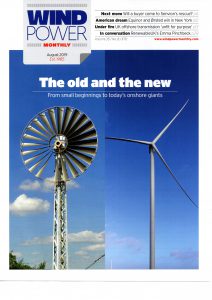 It is the first international report about the society and will be read by an international reading public.
Windpower Monthyl is published since 1985 and is considered to be the leading international wind energy magazine for many years.
The German Windpower Museum cordially thanks all involved for this milestone of communicating the society!
The entire article can be downloaded as PDF file:
2019_Aug – WindPower monthly-DWM