On November 14, three members of the German Windpower Museum met representatives of GEW (utility) in the futuristic building of the former jade wind farm close to Wilhelmshaven.
It was all about the intention to take down the closed facility and reinstall it at Stemwede as part of the German Windpower Museum.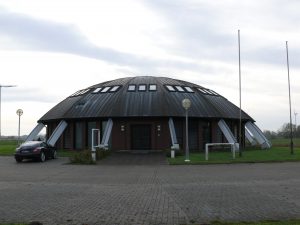 The building was installed in the late 1980s as part of Jade wind farm, then new and spectacular. Three single-blade turbine of type Monopteros-50 made by MBB, made up the core of the former wind farm. With a rated power of 640kW and 56m diameter they were the largest single-bladers the wind industry had ever seen.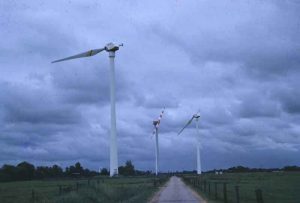 In 1993 the Jade wind farm was extended by a 3MW two-blader. Aeolus II by Kvaerner/MBB was the fourth highly visible large-scale turbine, served as a prototype and led to even more exclusivity for the Jade wind farm..
In the previously mentioned building visitors were able to get a detailed impression and retrieve live data of all four machines. In addition to that people were informed about wind energy in general.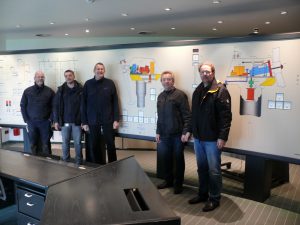 All wind turbines of the Jade wind farm disappeared between 2001 and 2008. Thus, keeping the existing building is of high importance.
Both sides gave a positive signal at this first meeting. GEW as well as German Windpower Museum think there's a chance in transferring and keeping this building. Further steps are planned.
The German Windpower Museum thanks representatives of GEW for this first meeting.