The collection of the German Windpower Museum has gotten richer by an exiting exhibit: This time it's not about a real wind turbine or parts of it – but a big model.
To be exact it's a Heidelberg-Motor HM-300. Contrary to almost all wind turbines this is a vertical axis wind turbine with two blades standing upright. The appearance of the rotor mirrors the letter "H" telling why these machines are usually called "H-Rotors".
One hoped to achive major advantages  to conventional horizontal axis wind turbines e.g. fewer components, less wear, a simpler design and easier maintenance.
The Heidelberg-Motors got their ring generator placed either on top or at the bottom of the tower.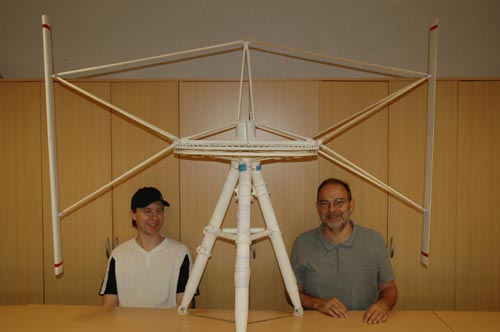 The model is made of balsa wood and hard paper and shows the three-leg tower version with the ring generator placed on top.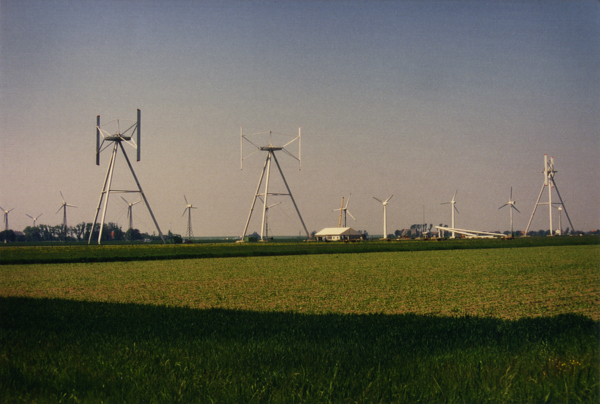 Of this extremely rare version five units were installed at Kaiser-Wilhelm-Koog (Schleswig-Holstein) in 1995 – being unique worldwide until today.
Due to technical and economial reasons the H-Rotors never really enjoyed a breakthrough on the wind turbine market. The windfarm at Kaiser-Wilhelm-Koog had to be dismantled after two years for technical reason.
However, a very rare, short yet highly interesting chapter of German wind power history is now on display in Stemwede.
The donation of the model was made by a former company employee. Organization and transport was done by manager Jaeger.